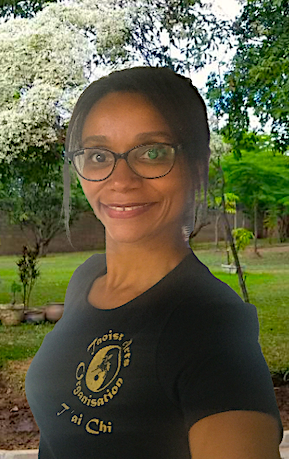 Grades:
1st Teng Sanshou (Sanda); 2nd Teng Tai Chi; Advanced Tui Na Practitioner
Contact:
reneesance11 [AT] gmail [DOT] com
About Renée:
I have been training in all aspects of the Li-Style Family system for 10 years, under Master Tony Swanson, Taoist Arts Organisation (TAO) Technical Director. Having trained in Shotokan Karate for several years, I was fascinated from the outset with what I saw and experienced in this internal Martial Arts and Health System. I was drawn to the breadth, depth, beauty and power of the Li-Style. I have competed at National and European championships in Tai Chi, Tui Shou, Qingda, and Sanshou and currently hold British and European championship titles in these. I continue to learn and develop, regularly attending training and residential courses. There is always more to discover! I feel lucky to be able to coach and help students develop and achieve their personal goals.
Qualifications:
BCCMA NGB Silver Level Instructor Coaching Award (with Sport England recognition); BCCMA Level 3 Advanced Coach Development Training (all 4 modules); First Aid Training qualification; Enhanced DBS clearance; BCCMA Safeguarding certification; BCCMA NGB Level 2 Coaching Award; BCCMA Sanhsou Judge certification; Li-Style Advanced Tui Na qualification.